System Options
This controls various system functions not directly related to phone use. Some functions may or may not be available based on your license or the hardware that is used.

Network
The network setting in hosted systems are read-only.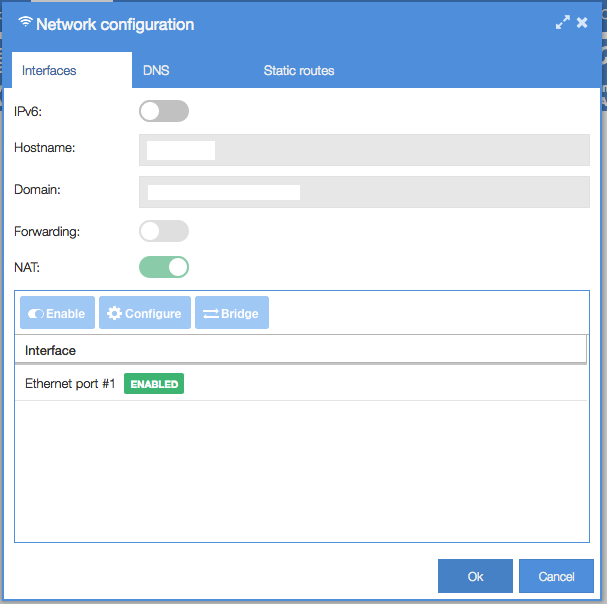 IPv6: enable all the IPv6 related options

Hostname: name of host, read-only with hosted and DHCP

Domain: enter domain name, read-only with hosted and DHCP

IPv4 gateway: default IP4 gateway, read-only with hosted and DHCP

IPv6 gateway: default IP6 gateway, read-only with hosted and DHCP

IPv4 forwarding: allow to access the IP phones from a different network segment. You must have the correct static routes set on your router, PC or switch of that is possible. For example you can administer your phones in this way from your workstation which is in a different network.

Ethernet x: select a port to disable, configure or bridge with the previous port

IPv4 mode: static, auto, DHCP, or off. When using static then you must use the notation IP address and netmask as in: 1.2.3.4/24 where the netmask is in decimal form.

IPv6 mode: static, auto, DHCP, or off. When using static then you must use the notation IP address and netmask as in: 1.2.3.4/24 where the netmask is in decimal form.
DNS tab
DNS x: the IP address of the Domain Name Server to use, read-only with hosted and DHCP

Use those servers:

Only: uses provided DNS only

First: uses provided DNS and if DNS does not work then use the caching name server in the pbx.

Never: will ignore provided DNS and use only the caching name server in the pbx

DNSSEC validation: default is off
Static routes tab
Allows you to manage static routes to any of the enabled interfaces.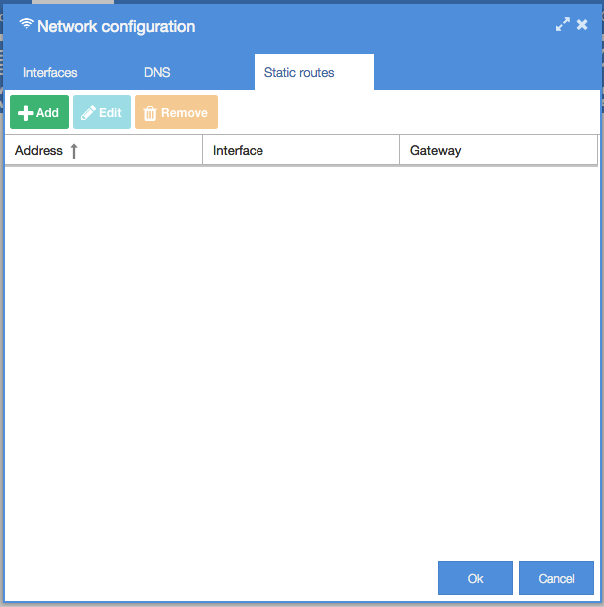 Address: host or subnet IP address

Interface: you can choose a specific port or bridge or

unreachable: useful when you want to route bigger subnet then if PBX can't find route then returns "host unreachable"

prohibit: returns "administratively prohibited"

blackhole: ignores packets to specific host or subnet

Gateway: gateway IP address
Network Servers
The system has a build in server for DHCP, FTP and TFTP. These services are often used to manage the phone provisioning files.
HTTP Tab
The HTTP server of the PBX can also provision phones when using Axeos hosted.
Be aware that 'enable phone provisioning HTTPS' is required to be set ON for the pbx to serve your secure remote phonebook.
HTTPS is enabled by default, you can create or import your own certificate. For more details go to System → Certificates
FTP Server Tab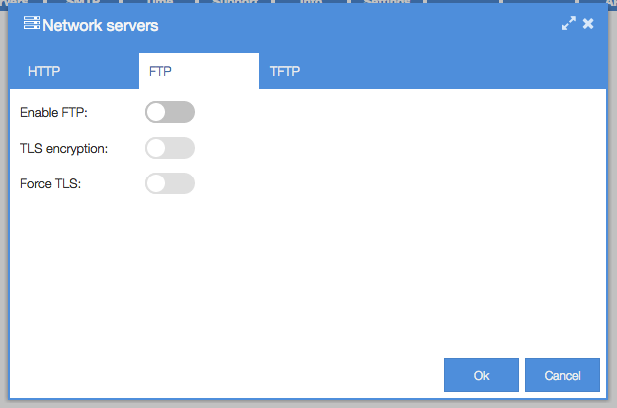 FTP server is disabled by default. To use TLS encryption you can create or import your own certificate. For more details go to System → Certificates
TFTP Server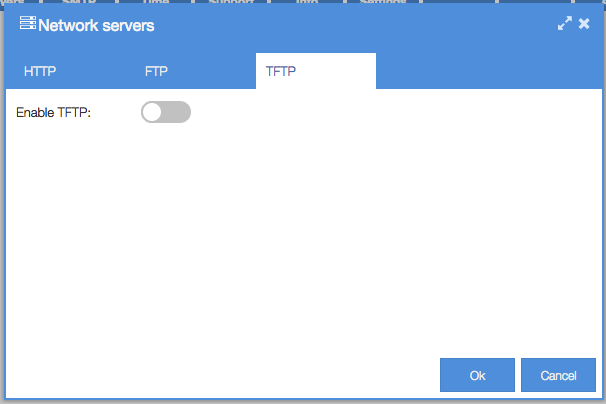 When you use DHCP to server your IP phones then enable TFTP as well as some phones require it. TFTP is not designed to work on a layer 3 network ("the Internet"), TFTP only works reliable in a layer 2 network, (e.g. ethernet (v)LAN).
Mail, SMTP settings
The SMTP server is needed by the PBX to send received faxes to, voicemail messages, cdr summaries or system notifications. By default not enabled. If mail does not work then first check the spam filter of the SMTP server most of the time that is where the mail ends up. Use the test mail button on the bottom to send test mails. This is no longer greyed when you have enabled SMTP. The from field is used to show the user where the mail came from for example PBX@example.com is an option. Make sure your DNS server works or no mails are sent.
Set auth to none as most servers do not use this. You can use SMTP server from google, you need a google account, exchange and any other SMTP server you have access to.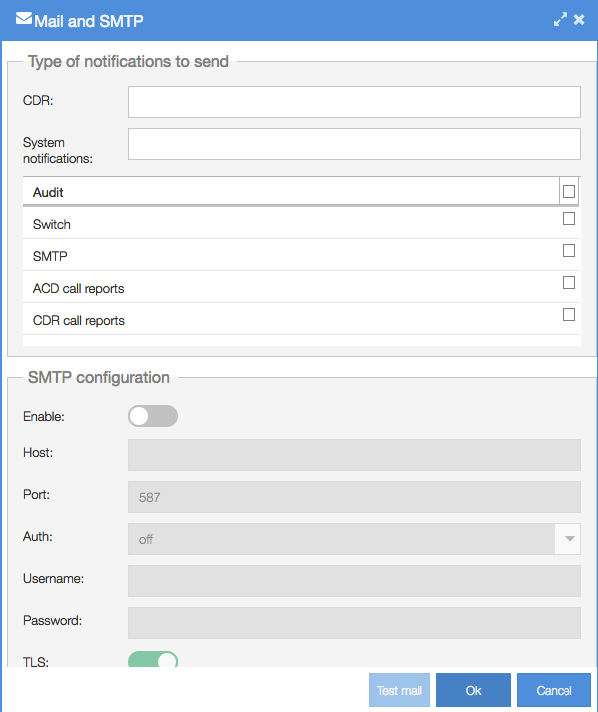 If you check any of the boxes for Audit you will recieve an email notification upon changes to the states of these options (e.g. when someone changes a switch state or alters the settings for CDR reports. Notifications are sent to the address set for System Notifications.
Date and Time
On hosted Axeos all is taken care of. On our standalone most of the time the defaults work right away. If not then first check if your DNS server is reachable and working.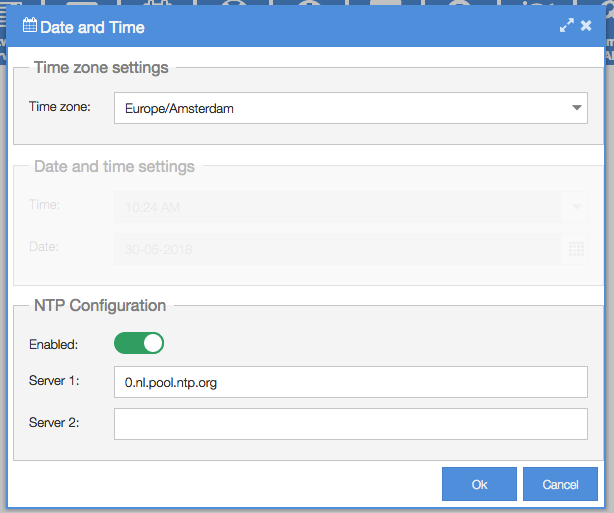 Remote Support
The Axeos staff can set up a remote support tunnel if you have a received a so called support ticket and uploaded that in this screen. Make sure DNS works otherwise this function will not work.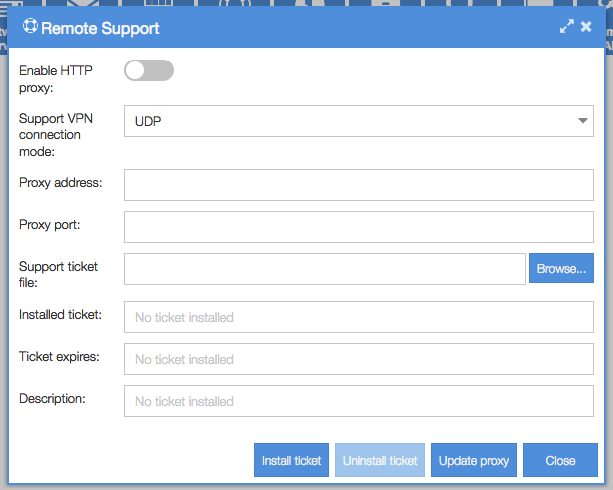 System Info
Axeos staff might ask you to send them this data when debugging your problem.
SPP Settings
Used for bidirectional communication between SPP and the vpbx. Setup automatically on newer systems byut you can set it up manually by defining a shared key between the two. You can also set the SPP IP-address for additional SPP services.
Load license – load valid licence from SPP, if any exist.

Sync LSP Info – synchronize LSP info data with SPP.
Please note: Shared secret and UUID are not part of the backup as it is part of the PBX itself. Backups can move between pbx's. Only a factory reset of a PBX will wipe the shared secret. The UUID will never change, unless you get a new vpbx.
Logging
Use this menu to copy all logging to an external server as well.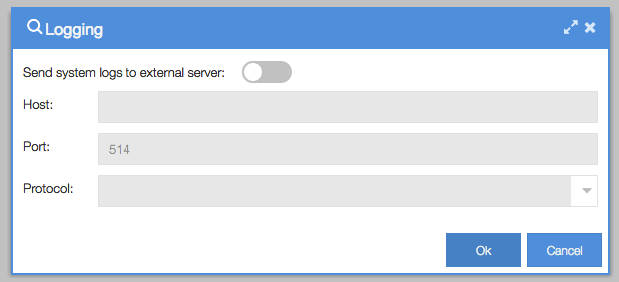 Locale
Set the Locale default for the custom sound files and voice(mail) prompts.

Remote API
The API key is used for communication between external system and/or applications and the PBX. For example the PBX API and CMB functions use this key to secure the connection between the PBX and the application(s). Use the generate button to make a strong key.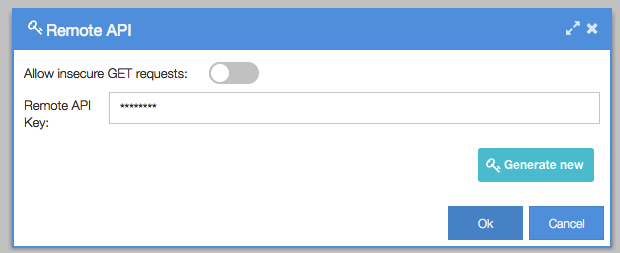 Using GET is possible but disabled by default. Please be aware GET is less secure compared to POST as query strings are sent as part of the URL of a GET request, where POST sends these in the HTTP message body. Use at your own discretion.
User Groups
With this menu you create the user groups to set up multi-tenant functions. The group name is a label under which various functions can be assigned to one or more user groups (Call groups, Outbound trunks, Custom sounds, Music on hold, PBX users, Phones and Time rules)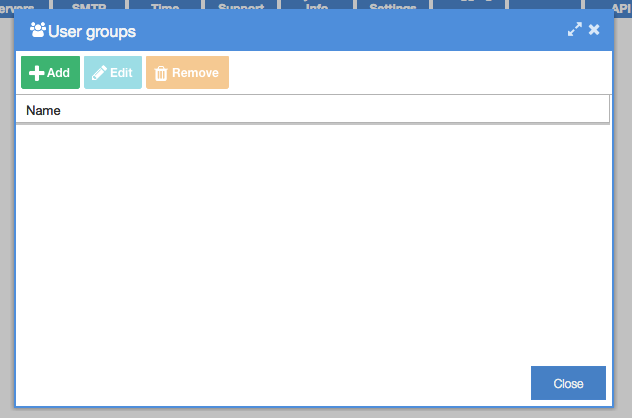 Features (system/options)
In this menu you can set the system name which shows on the landing/home page. When you check presence then the presence status of user is shown an tracked.

Chat Service
Enable or disable the XMPP server. You need the correct license for this. Contact your supplier for more information.
SNMP config
Simple Network Management Protocol (SNMP) config allows you to send pbx statistic to the monitoring server.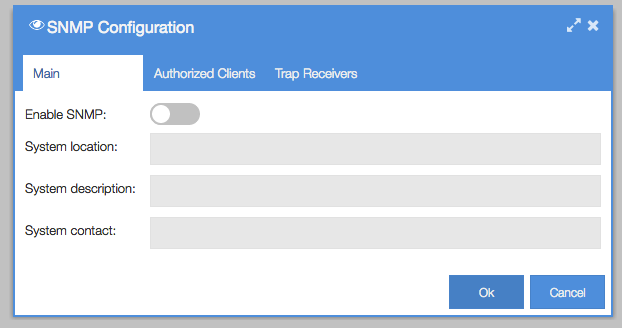 The MIBs supported are: SNMPv2-MIB, IF-MIB, IP-MIB, IP-FORWARD-MIB, TCP-MIB, UDP-MIB, IPV6-MIB.
Axeos provides a custom MIB file which you can use to configure your SNMP client: axeos-pbx-mib.txt
Adding authorized clients:
Community: alphanumeric string that allows access to the pbx statistic

IP Address: IPv4/IPv6 host or subnet address (CIDR format)
Adding trap recievers:
Community: alphanumeric string that allows access to the pbx statistic

IP Address: IPv4 or IPv6 host address (no subnet, without /xx suffix)

Version: 'v1 trap', 'v2c trap' or 'v2 inform'. Default is 'v1 trap'