In this article we will explain what call queues (ACD) are and how you can use them in your organisation. This will also be illustrated by a use case.
Would you rather start right away? Go directly to:
What is a call queue?
A call queue places your callers in an ordered "queue" or line until the next available employee (agent) can help them. This can be very useful at busy times. In a pbx it is called Automatic Call Distribution (ACD): it distributes incoming calls.

Agents can log in and out on an ACD. It is also possible for an agent to pause him- or herself in the ACD to be able to take a brake. And with a simple click he or she can indicate to be available again when back from the brake.
There are various possibilities to set up the ACD to your own needs. You can for instance choose your own music on hold to be played. You can set the maximum waiting time for a caller until he will be put through to, for instance, a voicemail box when his call was not answered by an agent.
You can add agents to the ACD and agents can be members of multiple ACDs.
Other options are:
Welcome message:
You can choose your own text, for instance: "Thank you for calling ABC. Please hold while we connect your call."
Waiting time announcement
Choose the message that best suits you. For instance: "All of our agents are currently busy, waiting time is 2 minutes. Please hold and we will answer your call as soon as possible."
Announce position
For instance: "You are the next caller in line".
Call back
"All of our agents are still busy. If you would like to receive a call back, please press 1 and the next available agent will return your call. Otherwise, remain on the line and your call will be answered in the order it was received."
Voicemail to E-mail
You can also give the callers the possibility to leave a message and the forward this message to your e-mail address. The message will attached as .wav or mp3.
Prioritization
Do you use multiple call queues and do you want one queue to be an emergency line? You can do this by giving this queue a higher priority; this way the most imnportant calls will get priority.
Seamless integration with other pbx functionality
If you have one or more queues, you can add these to your dial plan or phone menus (IVR). You can combine your IVR with other functionalities in your pbx.

An example of a call queue: Appointments at the doctor's practice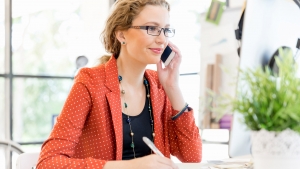 The doctor's practice telephone line seems to be busiest from 8.00 till 10.00 in the morning. The practice decided to create a call queue for these calls in order to reduce the negative effect of the busy signal on the patient experience.
Now if someone calls the docter's practice, he will get a phone menu (IVR).  Number 2 in the menu is for booking appointments. If the time is between 07.58 and 09.59, the caller will be transfered to to call queue. If it is not, the caller will be played a message that appointments can be made between 8.00 and 10.00 o'clock.
At 8 o'clock two receptionists start their shift. They both use their computer to logon to the call queue.
There is a caller already waiting in the queue: callers can access the call queue 2 minutes before opening hours.
Receptionist A gets the call and finishes it. As it starts to get busier, the pbx remembers whose turn it is, and gives the call to the agent who was on the phone longest ago.
After each call, the receptionist can wrap up the call for 30 seconds before getting a new call.
The callers in the queue hear music-on-hold during their waiting to be connected to a receptionist. At certain times they will hear a message that it is also possible to leave the queue now and get a callback from the receptionist later. Or they van leave a message. If the caller decides to wait in the queue, he will hear his position in line every 30 seconds. When it is his turn, he will hear the phone ringing and the agent will pick up.
At 9 o'clock a third receptionist starts working. She normally does other work but today she notices how busy her colleagues are with booking appointments. She decides to assist her colleagues and logs on to the same call queue. The pbx is set up to only assign calls to her when both her colleagues are busy on the phone.
When receptionist B wants to get her and her colleagues a quick cup of coffee, he puts himself on pause in the queue. He will get no calls until he unpauses.
A maximum of 20 callers can wait in the queue. The 21st caller will hear the message "All of our receptionists are currently busy. Please leave a message after the tone and we will return your call as soon as possible."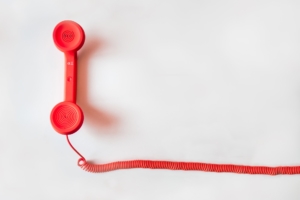 If a caller is in urgent need of help, in this phone menu he can push 9 on the dial pad: at that moment all receptionists wil get this call even if they are already in a call. They all see in their displays that this is an emergency call. Anyone can pick up this call now.
At 10 o'clock the receptionists see there are still 2 people waiting in the queue. They handle these calls. There will be no new calls as the pbx is set to not accept new calls after 10 o'clock.
The receptionists log off the call queue.