The user interface gives admin users a realtime view, making monitoring of queues simple. Statistics are shown per queue.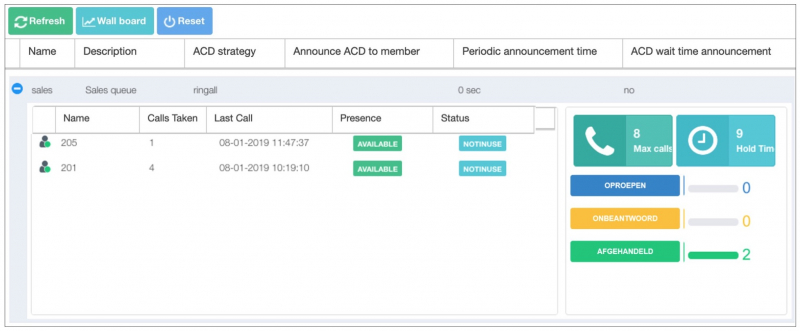 Menu options
Refresh: force refresh.
Wallboard: Opens a wallboard view in a new window, after selecting what queues to show on the wallboard. See image below.
Reset: reset all metrics to zero.
Statistics
Name: name of agent
Calls taken: call taken since last reset by agent
Last call: time of last call taken
Presence: presence status of all users and phones. Each status badge has a text label and color to indicate the various states:

available
ringing
talking
do not disturb
unreachable

Status: current status
Max: maximum number of calls that this queue will accept
Calls: number of calls in the queue since last reset
Hold time: average hold time in seconds since last reset
Completed: number of calls completed since last reset
Abandoned: number of calls abandoned since last reset
Axeos also provides access to an online reporting application that allows you to view more advanced statistics, graphs and data export to e.g. MS Excel. The online reporting application provides more metrics about the performance to help to serve your customers effectively. Below you will see some example reports. For more information please contact us at sales@axeos.com.
For better ACD performance and customer satisfaction, it is very important for agents to keep their call queue-status up-to-date at all times.
At the start of your shift you need to sign in to one or more of your queues.
If you need to step away from your desk, you temporarily pause one or more call queues at any time. Pausing call queues routes calls to other agents that are signed in to the queue so that no calls are missed and callers do not remain on hold.
When your shift is over, you should sign out of the queue(s) to set your status to DISABLED.
This is just one of the many tips for reducing Average Handling Time.