Axeos PBX 4.0 supports zero-touch autoprovisioning for Yealink and Snom SIP phones, greatly reducing installation time.
PBX Address
Please check the PBX Address setting in menu Communication/Phones/Global Settings and if neccessary choose an address (dns must resolve).
Phones
If you want a phone to be zero-touch provisioned you need to set vendor auto-provisioning to 'on' in the phone (Communication/Phones), choose the phone type and enter the phone device MAC address.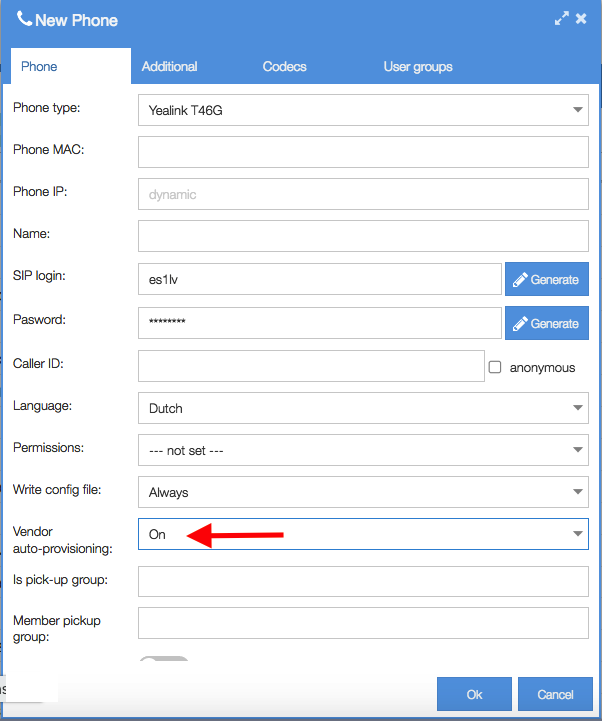 Settings (zero-touch provisioning)
You can enable/disable zero-touch provisioning in Communication/Provisioning through Setttings.
You can enable or disable auto-provisioning by setting this option on/off Provisioning host (the pbx IP or pbx hostname).
Secure provisioning host CA list: currently snom and yealink are supported.
Snom phone firmware caveats
Please be aware that the TLS implementation is broken in Snom firmware 8.7.5.25. In order to use provisioning we recommend upgrading your Snom devices to at least 8.7.5.35.
If you wish to use V10 Snom firmware, you will need to upgrade to Axeos PBX release 4.1.9 (available soon).

As of firmware version 10, Snom has decided to force server identity verification. This verification cannot be disabled because that would create a security weakness for the Snom Phones. The phone will reject all secure connections from peers offering an unknown certificate that could not be verified by one of the built-in CAs of the Snom phone, or one that is uploaded as a custom certificate and set as an exception.

Let's Encrypt or e.g. Comodo DST root certificates are built-in in the v10 firmware, so you use Let's Encrypt or Comodo certificates in the vpbx all is expected to work well. Most commonly used CAs are okay.
Self-signed pbx certificates are uploaded to the Snom device in our provisioning process as a custom certificate and set as an exception.

Snom V10 firmware uses a different equipment certificate which we included in 4.1.9 to properly zero-touch provision Snom devices that run v10 firmware.